If I Cry I'll Fill the Ocean
The Catherine Linehan Story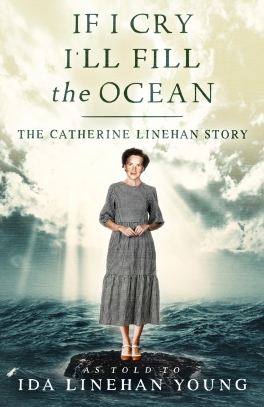 Set in North Harbour, Newfoundland, this is one woman's true story of fortitude and love.
In a life layered by tragedy and loss, Catherine Linehan's ingrained response is to put one foot in front of the other and not succumb to grief. For the mother of ten children, five of whom perished in a house fire, this means "making some kind of best" out of the rest of her life.
If I Cry I'll Fill the Ocean is the true story of how tears of cleansing and forgiveness are sacrificed to keep memories alive . . . and sanity in reach. This kind of courage only exists in the hearts and souls of those who have endured the unendurable.
"An amazing, shattering story told by an amazing, unshatterable woman." — Marjorie Simmins, Author, Journalist, and Teacher
Toronto Star Best Seller List - May 4, 2022
#1 - Atlantic Books Today Top 5 Best Seller List for NL  - April 2022
Globe & Mail Best Seller List - May 6, 2022
Hamilton Spectator Best Seller List - May 7, 2022
#3 - Atlantic Books Today Top 5 Best Seller List for NL for 2022
https://atlanticbooks.ca/stories/2022-top-five-local-sellers-from-chapters-coles-indigo-in-each-atlantic-province/
Catherine Linehan's story is tragically awesome. The depth of anguish malevolent Fate has heaped on Catherine is heart-wrenching, yet the strength of will she exhibits to carry on is astoundingly awe-inspiring."

-- Harold Walters, LOTP: Life On This Planet --
This is such a well-written and captivating book. Ida Linehan Young delicately and movingly tells her mother's story with honesty and integrity. Though she herself endured this great loss too, she remains unbiased and writes about the layers of her mom's life with a deep sense of admiration and respect. While it may be difficult to read about such a monumental loss, it is one that readers will feel forever changed by. It's a loving tribute to a strong woman who devoted her life to her family and is the epitome of courage in the eyes of adversity (even though she probably doesn't know it). So if you can only read one book this summer, I'd suggest picking this one up and spending a little time with the Linehan's. You'll see that while there will always be tears, there can still be laughter and love can carry you through.

-- Christa McGrath - Edward's Book Club --
Catherine Linehan is a remarkable woman. This true story, told in Mrs. Linehan's own words and written by her daughter, author Ida Linehan-Young, is poignant and heartbreaking. The strength and resiliency shown in the face of unspeakable loss is undeniable. "If I Cry, Ill Fill the Ocean" is a life laid bare and that, in and of itself, is bravery beyond compare. In June of 1980, Catherine Linehan experienced something no mother should ever have to bear: the death of five of her children in a tragic house fire. Though she had faced hardship growing up in a small Newfoundland community, she was happy with the way things were, surrounded by family and friends in her often very full house. However, the magnitude of loss that the Linehan family had to endure that night, as fire destroyed all that they had built, forever changed Mrs. Linehan and the simple life she loved. Nothing could, or would, ever be the same. It is, at times, difficult to read this story but I felt honored to do so. I laughed, I cried; many times, I was covered in goosebumps. The grief that Mrs. Linehan must have endured … I cannot fathom. It is an eloquently written book. Ida Linehan-Young is a very talented writer and I believe that she has really outdone herself this time. It's a truly personal story for both mother and daughter to tell and an incredible memorial to Francis, Richard, Sharon, Harold and Barry who were taken far, far too soon. I really loved this book. The "Glossary of Presence" at the back was just a beautiful addition and a wonderful way to end. It was so lovely to read how others see Mrs. Linehan; what she means to them and the easy way she gives love and spreads light to those around her. We should all be so lucky as to have someone like Mrs. Linehan in our lives.

-- Nicole Little - Review @ No Shelf Control --
It is a very inspiring story of a courageous lady that faced a lot of heartbreak.The story is so well written . I have to say Ida Linehan Young is an excellent author and I have read all her books.When reading them you feel you are present at the scenes. Fantastic!

-- Kathleen Whyte, Goodreads April 29, 2022 (5/5 rating) --
I loved everything about this book. Thanks to your Mom for sharing her story. The hardships that she endured were too much for anyone to carry, her loss overwhelming. The numbness she felt, I felt. She is an amazing woman. If we could all have half her strength and giving and loving ways the world would be a much better place. Side note ... I feed 12 what's 2 more.... oh my... how'd she do it. Thanks for sharing this book with us :)

-- Tanya Hoyles, Goodreads April 23, 2022 (5/5 rating) --
In contention for one of the best books I've read all year. All decade, possibly. Linehan-Young has a deft ear for dialog and is brilliant with fiction. She's honed her skills over the award-winning Mary Ro series, and now she's turned her pen back to the tragedy that befell her family once again. This is brilliant book of love and perseverance. Linehan-Young speaks with adoration for her mother, who she never ceases to find the opportunity to say a good word about. A true tale of Newfoundland family, hardship, and grace. A must-read.

-- Matthew LeDrew, Engen Books --
This book, the woman this book is written about, her daughter (author), and the family are all truly amazing and inspirational. If you want to know what true strength, devotion, resilience and love is, this book, from beginning to end, will consume you in it. And to read knowing that this in non-fiction makes it that much more heartbreaking and heartwarming all at the same time.

-- Cindy Barry, Goodreads May 30, 2022 (5/5 rating) --
Shopping Cart
You have no items in your shopping cart
| | |
| --- | --- |
| Sub Total | $0.00 |
| Shipping | $0.00 |
| HST (0%) | $0.00 |
| GST | $0.00 |
| Total | $0.00 |
---