Skipper Ches
As Tough as It Gets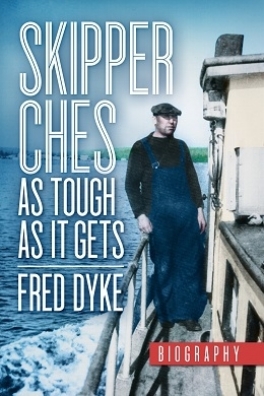 The life and times of Captain Chesley Dyke and Elsie Stanford Dyke
Pool's Island, Bonavista Bay
Fred Dyke captures the joys and struggles of his parents and what it was like in rugged Newfoundland outports from the early 1900s, through the Great Depression, and into the 1950s and 1960s. Storms, shipwrecks, working in the woods, fishing, and courage made up the lives of a loving couple who raised their family on Pool's Island, Newfoundland.
Skipper Ches Dyke understood rejection, poverty, and setbacks. He made his way and became a man when he was still a boy, taking part in the Labrador fishery at the young age of nine. Elsie Stanford from Grates Cove was no stranger to hard work. While in her early teenaged years, she carried 100-pound sacks of flour and potatoes on her back. The two married in 1929 at St. Mary's Church in St. John's, just three days before Ches began a four-year career with the ships of Furness Withy.
Moving back home to Pool's Island with his wife and two young sons, Ches began a new career as captain of local schooners. There, he made a remarkable reputation for himself as a sea captain, boat builder, mechanic, and more. The tales herein, as seen through the eyes of all those who knew Elsie and Ches, capture an amazing lifestyle from an era and location that should not be forgotten.
Shopping Cart
You have no items in your shopping cart
| | |
| --- | --- |
| Sub Total | $0.00 |
| Shipping | $0.00 |
| HST (0%) | $0.00 |
| GST | $0.00 |
| Total | $0.00 |
---