Murder at Lover's Leap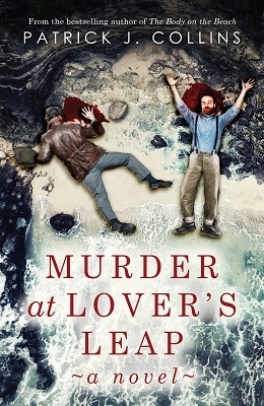 Inspired by True Events
In 1927, a schoolteacher, Nicholas Peddle, was found dead at the foot of Lover's Leap, Harbour Grace, with a superficial stab wound to his neck. Just metres away from Peddle, another body, likely an assailant, was also discovered.
The double murder of Nicholas Peddle and his attacker is the only cold case of Sergeant Frank Fallon's long career with the Newfoundland Constabulary. The slain schoolteacher was a man of secrets, and the list of suspects in the investigation continued to grow until—suddenly—the trail went cold.
Fifty years later, the case remains unsolved. And now, a phone call reveals that new evidence has come to light.
The discovery causes retired policeman Frank Fallon to relive four days in August 1927, when he enlisted the help of his estranged partner, Christine Sullivan, an investigative reporter with the Harbour Grace Standard. Together they sought the elusive killer of both men . . . a search that left them with more questions than answers.
"Murder At Lover's Leap is the 12th publication for retired educator and author Patrick J Collins. Inspired by a pair of true "but equally unnerving events," Collins' inspiration for this second narrative is based on the attempted double murder of two young lovers who, back in 1864, found themselves at the base of Lover's Leap. This unsolved crime, coupled with the discovery in 2021 of a lead casing containing a badly deteriorated note suggesting that a murder was about to occur, was the impetus for this latest narrative. Collins does an excellent job of crafting a tightly woven crime story using these two events. He seamlessly incorporates other factually accurate tidbits of information. Being a lover of Newfoundland history, I particularly enjoyed how the author was able to weave the construction of the Harbour Grace Airfield into the story, while at the same time using this local lore to aid in the construction of characters that are central to the story. As in Collins' previous crime thriller, Body on The Beach, this most current work also features the detective sleuthing of the romantically inclined duo of Detective Frank Fallon and investigative reporter Christine Sullivan. Collins crafts a thrilling story using authentic characters that are real and relatable, while putting forth a narrative that will keep readers turning the pages to the very end. In this follow-up novel, the author effectively uses a flashback technique to pique our interest. At the beginning of the story, Collins presents a very senior sergeant tormented by an unsolved double murder that had taken place 50 years previously, intrigued by the discovery of evidence that could lead to solving the crime. We are then taken back to a very different time and place, as Frank Fallon relives the investigation and tells the story. At the beginning of the novel, we get a sense that Fallon's continued struggle with "the bottle" is the result of some past triggering event, which will become clear at the end. We are sympathetic with Christine's reluctance to continue the relationship with Frank under such conditions. As clues and suspects pile up, their commitment to each other is tested. We come to enjoy the flirtatious antics of the Irish barmaid Fiona, who tries to serve more than just brew to the broken-hearted sergeant. Our interest is further piqued when the cocky son of Judge Donnelly makes a play for Christine. Murder At Lover's Leap is a well written crime thriller, with expertly researched historical touches. The subplots running parallel to the mystery provide an extra layer of interest, resulting in an entertaining and enjoyable read. I highly recommend reading Collins' first crime thriller, Body On The Beach, for maximum enjoyment; however, Murder At Lover's Leap is a great stand-alone mystery.

-- Stephanie Collins - Fireside Collections --
"Sgt. Frank Fallon's back for another intriguing mystery. . . . the layout of the town, the police (and other) procedurals, and the aspirations of different individuals, chime with the temper of the times."

-- Joan Sullivan - The Telegram --
Shopping Cart
You have no items in your shopping cart
| | |
| --- | --- |
| Sub Total | $0.00 |
| Shipping | $0.00 |
| HST (0%) | $0.00 |
| GST | $0.00 |
| Total | $0.00 |
---