The Captain and the Girl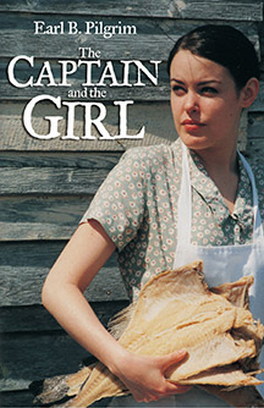 In the nineteenth century, hundreds of young girls joined schooner- and land-based fishing crews in the great seasonal Labrador cod-fishery. Uneducated and socially repressed, many of these young women found themselves alone and frightened on distant shores, with no familial or spiritual support. In 1892, Sir Wilfred Grenfell, a young British doctor, answered the call from Britain's oldest North American colony to treat the appalling social conditions among the livyers of Labrador and the Newfoundlanders who prosecuted the Labrador cod-fishery. During that first season, Grenfell's medical ship the Albert was blown into Indian Tickle, where Grenfell encountered a young woman in great distress, under the care of a well-intentioned but misguided fishing captain. From Grenfell's medical files, Earl B. Pilgrim has crafted another classic in Newfoundland literature, in the tradition of Will Anyone Search for Danny? and Curse of the Red Cross Ring.
The little schooner rolled on its side as the seven men winched the trap punt aboard. The swell was a sure sign that it would be a rough day on the ocean outside the shelter of the harbour. Skipper Joe Budden wasn't worried, because the swells came from rough seas created by strong winds offshore, which he welcomed to fill the sails and push his schooner down to the Labrador. This was the year 1892, a time when canvas was the only means by which fishermen from the colony of Newfoundland and Labrador could power their fishing schooners. Steam was fast becoming a reality, but wind was the only means affordable for the majority of those who pulled fish from the ocean. Skipper Joe was one of these. He was classed as one who was a good fishermen, and he could sail and navigate the northeast coast of the island and the coast of Labrador without a chart or compass most of the time. He was a dependable man who spent all his life going north. Skipper Joe Budden came from a family of fifteen children. His father before him was a fisherman who had spent most of his life doing the very same thing his son Joe did, but the younger Budden was a different man in his ways. He had been a very religious person for most of his life, following in the footsteps of his mother. On board Skipper Joe's schooner were his supplies for the long summer months, enough to outfit his crew until the last of September. He had just left the merchant's wharf, where he had taken on a full load of salt, the most important item in his cargo, for without it there would be no fishing. Salt was the only means of curing fish in large bulk during this period of Newfoundland's history, and this was usually a full schoonerload if the fishing was good. Other items included twine and iron grapnels, cod traps, salmon nets, trawls and handline jiggers. Boat-repair material was also stacked on deck, along with firewood for the summer, and a large pile of lumber that would be used to construct a small shack and a place where they could process their fish onshore. The main food supplies were flour, salt pork, salt beef, hard bread and molasses. Some tea was taken aboard, but no sugar or milk, since they weren't considered part of a fisherman's everyday diet, and the fish merchants kept it off the inventory of supplies. Sugar was substituted with molasses, because it was easy to transport and adaptable to many recipes. Stacked below deck were rolls of canvas to be used for mending the sails. In an emergency, they could be shaped into a pair of rough pants or shirts. Cooking and the mending of the fishermen's meagre homemade clothes were done by the men themselves if there was no girl or woman aboard, and this would be done by lamplight, after a hard day's work. It was late May, and the weather was warm and sunny after a cool, late spring. The rough ice had all but moved off from the coast, and the leftovers were large bergs that decorated the shoreline. Standing tall and gleaming in the sunlight like headstones in a graveyard, they were grim reminders of doom for those who dared enter their chilled waters. Two weeks before Skipper Joe set out for the Labrador, he hinted to his four sons that it would be of great benefit to the crew if a cook went with them this summer. It would be next to impossible to have a man accompany them as a cook, because they would have to give him a share of the catch. He could follow the lead of most other merchants who provided no pay, just food and lodging, but that wasn't Skipper Joe's way of operating. If he found someone, he would pay five dollars per month in addition to the usual benefits, and with that kind of an incentive he received offers from half a dozen young girls and older women. He had the pick of whomever he wanted, and as he went down through the list of names, there was one girl, Molly, who kept coming to the top as the number one candidate. He called a meeting with his four sons and the two other crewmen going, and he put forward her name. "What do you think of her, men?" he asked. "Do you think she would be a wise choice?" They all agreed that she would be best, because they knew her well. Molly was a beautiful eighteen-year-old girl, tall, with dark hair and blue eyes. She came from a very quiet family, her father a fisherman who stayed at home and fished the ocean near the small settlement, and her mother a hard worker who helped cure the fish, grow vegetables in the garden, and make hay for the goats and sheep. Young Molly was no stranger to hard work; the gene of responsibility was bred in her. On May 28, 1892, she stood on the deck of the rolling schooner. She looked back at her home and at her mother and family, who were waving to her. Molly waved back. "Goodbye, Mother." She knew her mother hadn't heard her. The blocks in the rigging were screeching to the pull of ropes as the men hauled up the fluttering sails in the southwest wind that gave the boat momentum as it slowly moved away from the dockside houses and out the harbour. "Have you ever been out in a schooner, Molly?" asked the skipper. "No, sir, I haven't, but I've been out in a trap boat many times with my father." "Well, that's good. You should make a good sailor." "I hope so, sir," she said. Skipper Joe looked at the sky over Molly's shoulder. "If the wind stays like this all day, by the time dark overtakes us we should be at Horse Island." Molly nodded, but knew nothing of what he was saying; all she knew was that she was going to cook on the Labrador and that she was on her way.
A natural-born storyteller, Earl B. Pilgrim will not disappoint his fans with his most recent story, The Captain and the Girl.

-- The Telegram --
Brilliant story.

-- The Newfoundland Herald --
Pilgrim is a good storyteller.

-- Downhome --
The Captain and the Girl is a quick, enjoyable read for anyone looking for an adventurous tale with the flavour of local history.

-- The Express --
Shopping Cart
You have no items in your shopping cart
---
| | |
| --- | --- |
| Sub Total | $0.00 |
| Shipping | $0.00 |
| HST (0%) | $0.00 |
| GST | $0.00 |
| Total | $0.00 |
---